In front of the customer
20 days: Too long!
I always give my customers a delivery period of 20 days. Is it too long?
It is definitely too long. The average delivery time should not exceed a week. If the period is too lengthy, the customer loses the interest and enthusiasm which he had at the moment when he brought the pictures to be framed. After two weeks he could even forget what he brought. If the period is even longer it is very probable that he could even forget that he had brought something to be framed.
The delivery term should be indicated on the receipt of works to be framed, and given to the customer, so that he will know when frames are ready.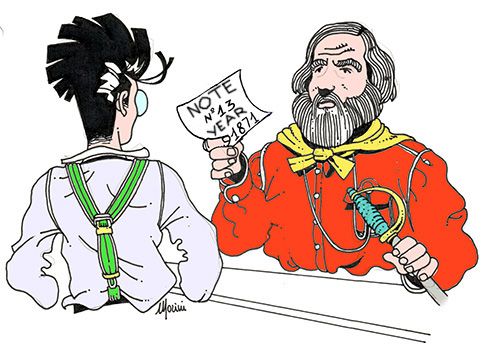 Original or Reproduction?
A customer brought me a reproduction to be framed saying that it is an original. What must I say?
It would be better not to spoil your customer's illusion. Probably the picture was a gift from a dear one; perhaps the customer has given to the picture some sentimental value. Don't stress the authenticity of the picture. Point out the fact that the frame emphasises the quality of the picture; underline instead, the joy of displaying something in one's house which is liked and which is held dear.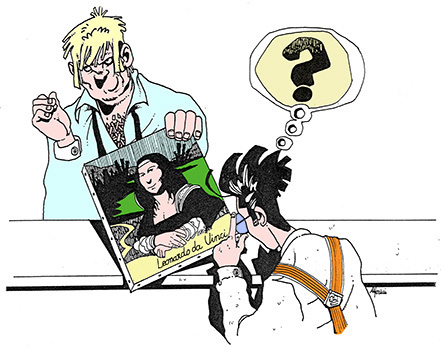 To spend little
What do we do when a customer asks for a low priced frame?
Often a customer isn't aware of frame prices and wants to avoid unwanted surprises. It is up to us to understand whether the client wants to either spend the least possible amount or whether he/she is just being defensive. It is best then to propose 2 to 3 frames of different prices and give an approximate indication of them. We will be able to tell, from the client's reaction, what the meaning of his/her initial statement was.
A particular colour
The customer wanted a white linen mountboard but at the time of handing over he/she said that it was too white.
We must be careful of the literal meaning of clients' words. The customer generally doesn't know that the colour of a mountboard can be snow white or even cream white. After the customer sees samples of both white and cream we will probably realise that the customer actually wanted a cream mountboard. This misunderstanding can also happen with the frame, with the colour of the filet and with other cases. Each one of us gives different meanings to words. For some clients a white frame may actually mean a silver frame. A light brown coloured frame may actually be a natural wood coloured frame. It is always advisable to show samples in order to avoid these unfortunate misunderstandings.
A non suitable frame
The client persists in choosing a frame that is clearly not suitable for the picture. What do we do?
If we can't persuade the customer, there is not much else we can do but accept the work. The client probably has his/her own reasons for choosing that frame of which we are not aware of. It is also possible that the customer has better aesthetic tastes than we have. We must take some pre-cautions though. Firstly we must request a deposit in order to protect ourselves against future complaints at the time of the handing over the completed work. We must also avoid putting our label on the work so that those who see the frame will not blame the framer.
Enter workshop
Should I let clients into the workshop?
Every so often some clients, through the corner of their eye, glance over through the workshop door curiously wanting to know how their frame is being constructed. Generally we are reluctant to let clients into the workshop. This is for various reasons and first of all due to the disorder that is often present in the workshop. Other concerns arise from the fear that the client may possibly interfere in the framer's work or even just from the embarrassment of having someone watch over you whilst you are working. The final reason could be to hide various stages of the work from the client such as the touching up of the frame's defects, trimming of those parts of the print that don't fit into the frame, use of recycled cut-offs for the back of the frame etc. In conclusion how do we act? As each situation varies, it is not an easy question to answer. We must always remember however, that the customer would certainly love to be permitted to enter the workshop.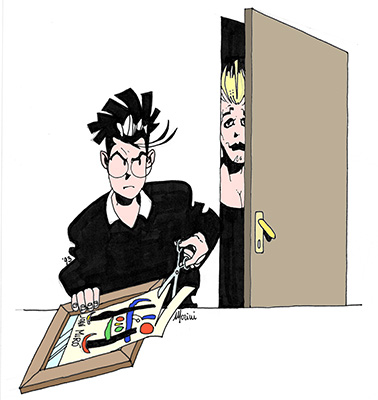 A small mountboard
How to convince customers that a too narrow matboard is not beautiful?
Sometimes clients ask for a small mountboard because they are worried that the frame will become overbearing for the print. Other times they are worried about the price which is obviously related to the total size of the frame. We know however that a thin mountboard is not aesthetically pleasant. Another reason why small mountboards are to be avoided is as follows; there must be a gap of at least a few millimetres between the mountboard and the frame, otherwise the mountboard becomes difficult to fit. It is also necessary that this tolerance is equally spread on each of the four sides. However if the mountboard moves after framing then the widths of the four sides no longer seem the same and it gives an impression that the four sides of the mountboard have been incorrectly cut to different widths. This inconvenience will not be noted if the mountboard is wide enough (at least 5 to 6 cm - 2" to 2 1/2"). Our reasoning must be particularly directed at this last point if we are to convince the client not to choose a mountboard that is too thin.
"Just looking"
What do we do with customers that enter our shop only to browse?
First of all we must acknowledge their presence even just with a nice "hello". As they walk in it is not even necessary to put them under pressure by asking them typical questions such as: "Can I help you?". To the typical reply of "just looking" we can reply by saying "take your time. If you need help I will just be over here". At this stage it would be best to continue working within the shop instead of going into the back room. It would be handy to have some small jobs up your sleeve that are particularly suitable for these occasions. If the customer observes a certain print for a lengthy period then you could then walk up to them and say, "Do you like it?" and also add some explanations on the print or author. It could be possible to start a conversation with the customer in relation to their tastes and preferences in art, etc.
A worm eaten frame
A client brings back a frame I had sold to him two years ago and claims that it has been eaten away by woodworms. What do I do?
Woodworms can enter into wood after many years. From a legal point of view we should have no problems because sufficient time has passed from the time we completed the work. The woodworms could have migrated from another piece of furniture. The client should be aware of this and he/she should also be aware that our responsibility ceased after a certain amount of time from the sale. From a customer relations point of view it is probably not advisable to have a severe attitude towards them. We could adopt various solutions. We could tell the client that although we are not legally responsible we will however replace the frame. We could suggest a different frame and kindly ask for a contribution equal to about half the price or even make the client pay for the frame but grant a large discount.
Straight back to work
Some customers love to chat even after the frame has been chosen and the price agreed upon. I haven't got anyone working in the shop and time is so precious to me. How do I cut the conversation short?
After just a few minutes you could make a similar polite statement: "If you want your frame by next week then I better get back to work". The sentence is far from unpolite but is a clear message to the customer that the conservation is about to end.
Can I take it home?
Every so often a customer asks for permission to be able to first take the picture home before purchasing it. They want to see if it goes well with their furniture, show it to other members of the family, ask a friend's opinion, etc. What should I do?
If you personally know the client then you should not only accept but also encourage them to pick a few others agreeing that the next day they bring back those that they don't want to purchase. The customer could then decide to purchase more than one. If they are not usual customers then it would be preferable to decline the offer. You could however suggest that they purchase one or more frames and at the same time assure them that if they didn't like them they could simply come back within a few days and change them for others.